Standard
Premium LED Lighting
Optional
Pure Water System
Starting Price Range
$$ – $$$
The Hydropool Self Cleaning Collection
The Serenity Collection
Serenity Hot Tubs were designed with the help of physiotherapists and osteopaths, bringing you the perfect balance of hydrotherapy, massage, and elegance. Whether you are looking to socialize, relax, or relieve medical conditions such as arthritis – improve your wellbeing and live your life stress-free by embracing all the benefits a Serenity Hot Tub has to offer. Owning a hot tub has never been easier! Each model includes maintenance-free cabinetry, easy access to working parts, and a user-friendly configuration system. The Serenity line also comes in a variety of styles. Featuring spacious interiors that can accommodate four to seven people, multiple interior shell colors to choose from, premium lighting, exterior Moonlights, 2 AquaBlade WaterFalls, and fully customizable extras to create your perfect hot tub! Plus, you can always depend on the reputable Hydropool quality Weather Seal Insulation and the innovative water care options, like the Pure Water System that help you spend less time caring for your hot tub and more time using it.
It's A Family Affair Savings Event!
Relax in comfort with Hyropool Hot Tub or Swim Spa! Save up to $6,500 on select pre-ordered models and have it installed before the end of summer! Selection is limited so act now!
Offer ends Apr 2nd
Why Buy A Serenity Model
Serenity Is Built To Last From The Ground Up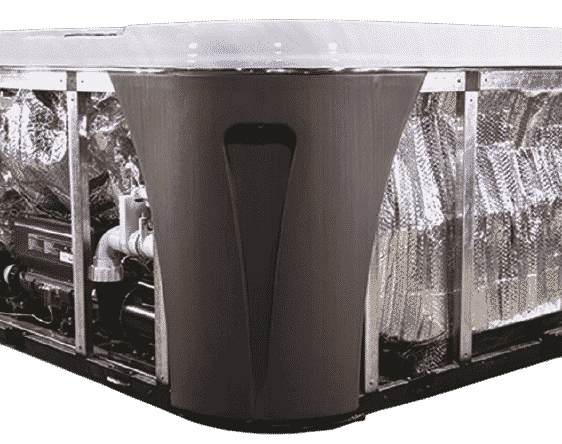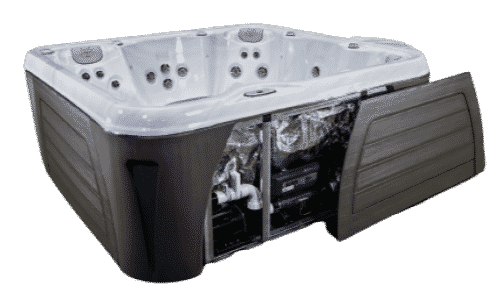 POLYMER INSULATED FLOOR: Traps heat in and keeps everything else out. The insulated floor locks in heat from the pumps.

UNIBODY FRAME:

This is the strongest frame on the market. Can hold the weight of water while adjusting to the temperature changes of the seasons.

EDGEWATER SHELL:

Like a boat hull, our waterproof shell is built with polyester and vinyl ester resin that for additional strength is combined with fiberglass.

THE WEATHER SEAL INSULATION SYSTEM:

Exclusive Hydrowise Thermal Shield Energy Efficient Insulation and WeatherSeal Cabinetry when paired with our HydroWise Hard Cover keep the heat in and the cold out, making Hydropool one of the most energy-efficient hot tubs on the market. Keep your spa heated at 100ºF / 37ºC … for just pennies a day.

POLY FILM BARRIER: Supports water weight and plumbing while minimizing vibration.

HYDROWISE THERMAL BLANKETS:

Situated on the floor, this reflects radiant heat back into the tub and creates the first thermal barrier.
2LB CLOSED CELL FOAM: Prevents heat loss by sealing the lip of the tub and insulating the floor of the tub.

WEATHERSEAL CABINET:

Waste heat locked in by the heater and pumps is locked in by reflecting radiant heat inside the cabinetry of the spa. The cabinet panels are easily removable.
HYBRID HEAT ADVANTAGE: Our WeatherSeal Insulation System combined with the other insulation materials captures radiant heat and significantly reduces energy consumption.
Energy Efficiency Beyond Compare
Hydropool hot tubs are engineered to be the most energy-efficient in the world; keeping the heat in and the cold out thanks to the innovative HydroWise Insulation System. Our system is designed to keep your spa temperature at around 100° F/37° C for just pennies per day. Our Hydrowise Hard Cover combines with our HydroWise Thermal Shield Energy Efficient Insulation System masters the art of trapping in heat and keeping the cold out. All of our insulation technology has been designed to exceed California Regulations, which are some of the strictest in the world. Hydropool is ranked as a world leader for stand-by wattage and energy efficiency levels and was one of the first hot tub manufacturers to be approved under State of California guidelines.
Science Of Immersion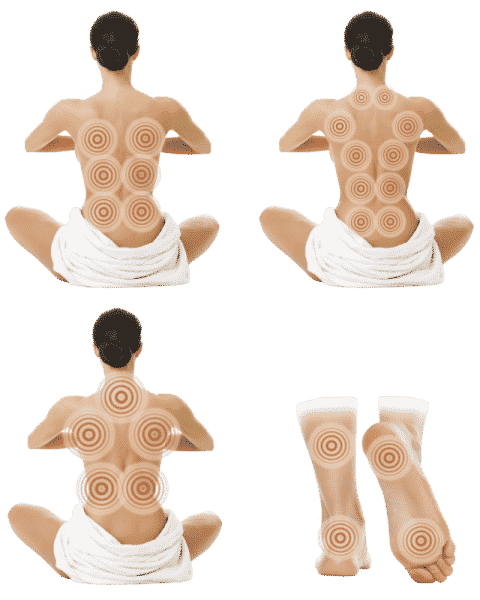 Hydropool has taken the science of immersion to the next level by gaining a thorough understanding of the ergonomics of the human body and our Zone therapy system. We've used this knowledge to develop a series of hot tubs that can interact with the human body most effectively and naturally possible. With the Zone Therapy system, we've designed it around your body and your use of the hot tub in order to deliver the greatest wellness benefits and improve your overall sense of well-being. Our customizable programs can adjust to an individual's sensitivity levels to effectively relieve tension.
TYPE OF JETS: Water jets are what deliver an effective massage. Hydropool has an E-55 jet which is designed for deep tissue massage and the E-40 jet is designed for a softer massage experience.
JET PLACEMENT: Our jets are designed for each zone in order to deliver specific hydrotherapy benefits. Different patterns with groups of jets target different sets of muscle groups.
SEATING DESIGNED AROUND YOU: Our seating is designed to work around your natural body structure to provide superior comfort. The ergonomic seating design supports the skeletal structure and removes stress from joints and muscles so that the body can relax.
DURATION IN SEAT: Zone therapy also utilizes the time a person spends in each seat combined with the sequence that the seats are used to deliver an ultimate massage experience.
Serenity ClearSpring Filtration System
This system for Serenity Hot Tubs is a three-stage filtration system that keeps water cleaner and clearer. The first stage is the Ultra Flow Grill with its Catch Barrier preventing debris from re-entering the hot tub. The second stage skimmer net traps large debris before reaching the filter cartridge. The new Wave filter cartridge with its much larger surface area filters more water than ever before and is made out of microfiber with a dense inner core that traps the smallest particles and holds them. Clean and healthy spa water is the foundation of all Serenity Hot Tubs so that you can enjoy the cleanest water with the easiest system to operate and maintain your Serenity Hot Tubs performance.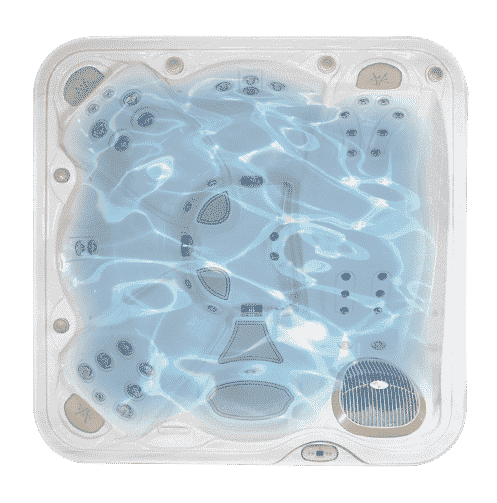 Shop Our Other Great Collections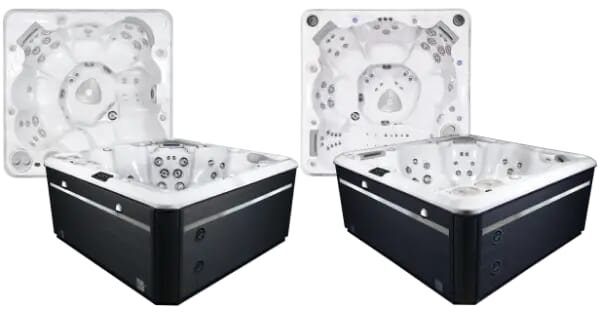 Signature Collection
Our exclusive patented Self-clean technology filters 100% of the water in only 15 mins making this collection the world's easiest to maintain Hot tub. The design of our seating and the strategically placed jets create a continuous flow of water, pushing all floating debris towards the high flow skimmer and boosting the efficiency of our Self-Cleaning system. The wide mouth skimmer and pre-filter remove floating debris and oils, preventing clogging of the pump and heater, and increases filtration by moving debris into the pre-filter. The Hydroclean Floor Vacuum pulls debris across the floor and helps to effectively circulate water care products and virtually eliminates the need to vacuum.