Worlds Only
Self-Cleaning Hot Tub
Worlds Only
Automated Massage Program
Optional
Pure Water System
The Hydropool Self Cleaning Collection
The Hydropool Self-Cleaning Collection
Whether you are rekindling romance, getting together with friends, or unwinding alone – Hydropool's Self Cleaning Hot Tub Collection allows you to spend more time being and less time cleaning. Tucked away in the backyard or installed in a corner of your home, this collection is easy to maintain, while still providing best in class comfort, hydrotherapy, and energy efficiency. And with a wide selection of available options and packages, you can create the hot tub of your dreams.
Our signature Self-Cleaning Collection offers gold, platinum and titanium options. All models are equipped with our energy-efficient self-cleaning circulation pump. The Titanium model features 3 jet pumps, the Platinum models feature 2 jet pumps and the Gold models feature 1 jet pump.
Why Buy A Signature Self Cleaning Model
Hydropool's Patened Self Cleaning Technology
Before, the biggest challenge of owning a hot tub was the time needed to invest in maintenance. Not anymore! Hydropool's innovative Self-Cleaning technology system removes debris from both the surface and bottom of the hot tub, cleaning 100% of the water in only 15 minutes. Strategically placed jets create a continuous flow of water, pushing all debris towards the high flow skimmer. Floating debris is removed by the wide mouth skimmer, and the Hydroclean Floor Vacuum removes all other debris from the floor while assisting in the circulation of water care products. Owning a hot tub has never been easier!
On top of the incredible self-cleaning system, every hot tub in the Self Cleaning Line comes standard with the Everlast maintenance free cabinetry, superior energy efficient Thermal Shield Insulation System, and ambient LED lighting. Choose from various shell color options, cabinetry, and luxurious upgrades.
PureWater UVC The Cleanest Water Possible
We offer the Pure Water System, treating 99.9% of waterborne pathogens, and reducing chemical dependency by more than 50% ensure your water is clean, safe and treated every time you step in. This combination of advanced purification using UV and Ozone creates active oxygen in the PureWater System which removes any Calcium and Biofilm inside pipes. All of this reduces the need to shock your hot tub water.
How the PureWater UVC system works:
Micro Cell Ozone Purification: Your hot tub's water is continually passed through the patented MicroCell where it is treated with nature's oxidizer, Ozone. This highly effective, simple and rapid oxidation process reduces chemical usage by about 50%.
Exposure to UVC Light: Next, the Ozone treated spa water is passed through an ultraviolet light chamber where it is exposed to a high volume of UVC light and is purified even further.
The PureWater system runs when your spa is circulating water and the Quick Diagnostics indicates everything is in working order – letting you know it is time to sit back, enjoy a soothing Hydrotherapy massage and let the HydroClear PureWater System do its job.
Let's Talk About The Science Of Immersion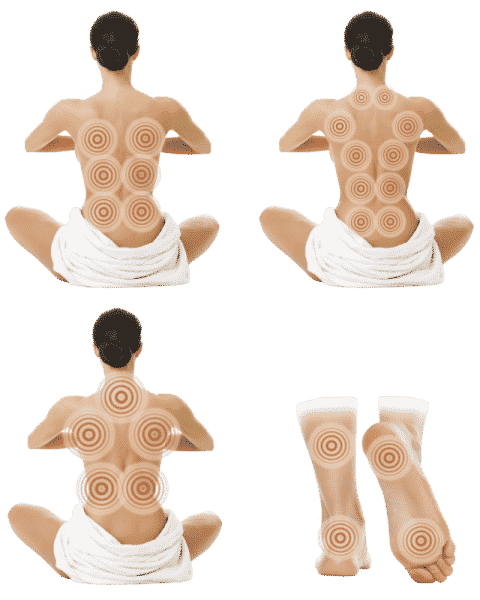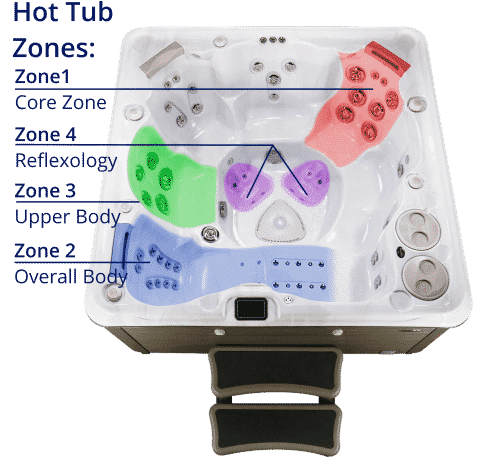 How Does Zone Therapy Work?
ZONE 1 – CORE ZONE
Zone 1 activated the paravertebral muscles. Vertebral fatigue (your spine) can cause headaches. Therapy in this zone releases tension in dorsal muscles and help to relax muscles around your vertebrae.
ZONE 2 – OVERALL BODY ZONE
Zone 2 activates the leg and lumbar muscles to help promote improved circulation in the lower part of your body. This allows for better blood flow and lightens the legs.
ZONE 3 – UPPER BODY ZONE
Zone 3 activates the upper back, shoulders and neck muscles to eliminate tension in the trapezoid muscles and neck. This releases tension in the solar plex area.
ZONE 4 – REFLEXOLOGY ZONE
Zone 4 activates the foot arch muscles. Feet play a vital role in our overall health and take the brunt of most sports and athletic activity. This zone is designed to deeply massage the small venous areas of your foot's arch.
Hydropool's Zone Hydrotherapy incorporates different strength jets that are strategically placed to achieve a natural, effective, and fully tailored massage from head to toe. Our Zone Therapy provides you with a personalized usage map of your hot tub. Your body is unique, this is why we provide an easy-to-understand summary of the four key elements that make up each hydrotherapy zone – so you can target and tailor your massage exactly where you need it the most. All models come with a wellness guide and feature hydrotherapy programs such as Leg pain, Back pain, Sports Recovery, headache and insomnia providing the ultimate stress relief. We Call This The Science Of Immersion.
Energy Efficiency Beyond Compare
Hydropool hot tubs are engineered to be the most energy-efficient in the world; keeping the heat in and the cold out thanks to the innovative HydroWise Insulation System. This advanced technology means you can enjoy your hot tub for just pennies a day.
Thanks to the combination of our Hydrowise Thermal Shield Energy Efficient Insulation System and the HydroWise Hard Cover, heat stays trapped in your hot tub and the cold is kept out. Maintaining a temperature of (around 100° F/37° C) can be done for just pennies a day. When it comes to energy efficiency, Hydropool sets the standard and is ranked one of the top in the word for stand-by wattage and energy efficiency. Hydropool was also the first hot tub manufacturer to be approved under the strict State of California Guidelines.
Shop Our Other Great Collections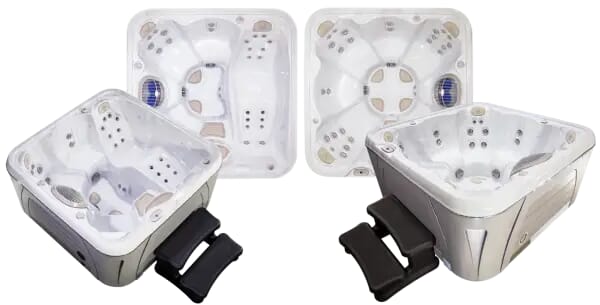 Serenity Collection
Hydropool introduces an all-new redesigned cabinet and frame. The new Unibody Frame cradles the all-new Edgewater Shell and it all sits on a Poly Insulated floor sealing in the acrylic shell, cabinet and frame. Thus creating a completely sealed system that keeps the heat in and the cold out in the winter. In the summer, heat can be released and regulated by the EcoHeat Exchange fully adjustable venting. Each Serenity model comes in one easy-to-understand configuration with limited options and upgrades, making it easy for you to enjoy simplicity at its best. The Serenity Collection comes in 3 different sizes. This Collection features premium lighting, exterior Moonlights and 2 Aqua Blade Waterfalls.